Welcome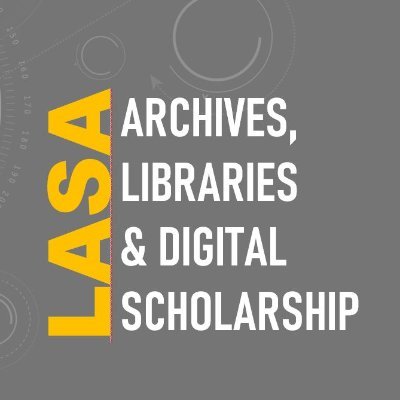 Welcome to Archives, Libraries and Digital Scholarship section!
We are committed to promoting access to Latin American and Caribbean scholarship This group fosters interdisciplinary dialogue around critical questions regarding research, access, preservation, archives, and the acquisition and the dissemination of research materials, regardless of format.  
This group is interested in digital humanities, digital libraries, information literacy, Open Access, archival theory and research, post-custodial archives, teaching with primary source materials, targeted collecting at libraries, and publishing trends in the region.
Bienvenidos a la sección de Archives, Libraries and Digital Scholarship! 
Estamos comprometidos a promover el acceso a la investigación académica enfocada en Latinoamérica y el Caribe. Como sección fomentamos el diálogo interdisciplinario sobre preguntas críticas en lo que se refiere a la investigación, el acceso, la preservación, los archivos, las adquisiciones y la diseminación de materiales de investigación, sin importar el formato.  
Nos interesan: las humanidades digitales, las bibliotecas digitales, la alfabetización de la información, el acceso abierto, la teoría e investigación archivística, la enseñanza con fuentes primarias, la adquisición orientada de materiales, y las tendencias regionales de publicación.
Bem-vindos à seção de Archives, Libraries and Digital Scholarship! 
Estamos comprometidos com a promoção de acesso à pesquisa latino-americana e caribenha. Nossa seção busca promover o diálogo interdisciplinar em torno das perguntas críticas enquanto a pesquisa, ao acesso, a preservação, aos arquivos, e a aquisição e disseminação das matérias de pesquisa, independente do formato.
Temos interesse nas humanidades digitais, nas bibliotecas digitais, na formação de usuários da pesquisa, no acesso aberto, na teoria e na pesquisa arquivística, nos arquivos na era pós-custodial, no ensino com as fontes primárias, na aquisição especializada para as bibliotecas, e nas tendências de publicação da região.
Recent News

Upcoming Events

There are no upcoming events posted at this time.

News from LASA

There are no recent news items available at this time.